2017 Step Up Strings
All of our instruments are thoroughly shop adjusted and play-tested by our in-house repair department staffed by 5 technicians for fast, professional repairs. We strive to be competitive on our pricing so if you find a lower price, please let us know as we usually can match or beat any price! All prices listed are our low discounted prices.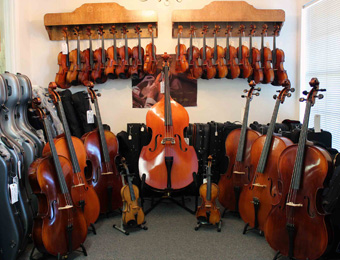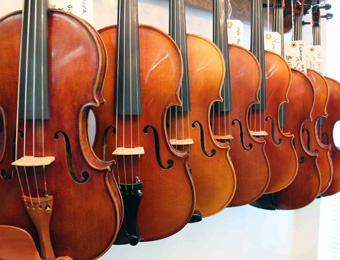 Violin
Amati 125+, Hand-Carfted from the finest aged tonewoods, outfit comes w/ oblong suspention case, fully lined wood bow, and Dominant strings


Eastman VL305, Hand-Crafted spruce top mable back, ribs, and scroll. Carved boxwood pegs, tailpiece, and chinrest


Eastman VL605, Entirely hand-crafted by master luthiers, patterned after Guarneri and Stardivari patterns, outifit comes w/ oblong case, pernambuco bow, and Dominant strings


Glaesel VI31DLX, Solid spruce top, flamed maple back and sides, crafted in Germany, ebony fittings, includes contoured case, brazilwood bow, and Dominant strings


Cracovia, European made from the finest aged tonewoods, finely tuned plates, vintage antique finish, hand-crafted ebony fittings with Dominant strings, sold as instrument only


Jon Paul VN4, N. Goffman model, antique finish with ebony fittings


Jon Paul VN5, Carrera & Fino model, hand-crafted select european instrument


Jon Paul VN5M, G. Paola model, hand-crafted select European tonewoods


Violas
Eastman VA305, Seasoned spruce top with maple ribs, back, and scroll, antique finish, outif sold with Helicore strings, fitted case, and brazilwood bow (sizes 15-16.5")


Amati 125, 16" Viola outfit, antique finish, outfit sold with fitted case, brazilwood bow, and Helicore strings


Cellos
Eastman 305, Entirely hand-crafted with select aged spruce top and highly flamed maple back and sides, sold as outfit


Eastman VC605, Top-quality flamed maple and aged spruce


Amati 200, Highly flamed cello outfit with case and wooden bow


Basses
We carry a variety of basses for both rental and sale. Please call for more details.
Due to space limitations, we are unable to list every instrument in stock. Please call for additional information. Prices subject to change.