About Cadence Music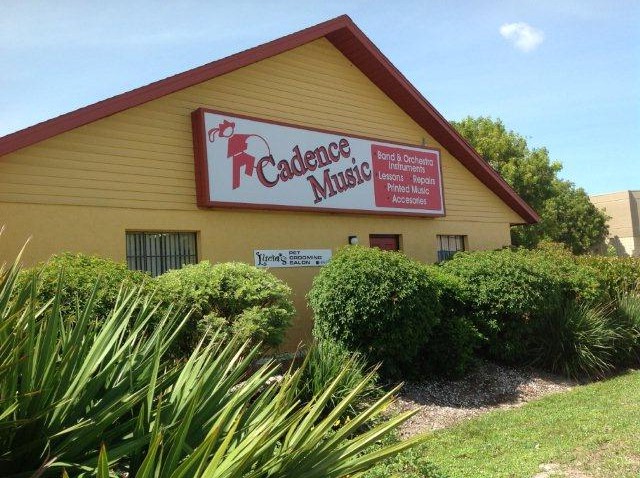 Click here for map/directions
Serving Southwest Florida since 1979, Cadence Music is Southwest Florida's largest and most trusted band and orchestra music store. We are family-owned and independent, meaning your business supports the local economy. We own and maintain all of our rental instruments, and are not an outlet or satellite for another company. Conveniently located in central Fort Myers, Cadence Music specializes in school band and orchestra instrument rentals, sales, accessories, sheet music, repairs, and private lessons. We have the largest selection of student and professional-level instruments and accessories, as well as sheet music and books, in Southwest Florida. Cadence Music also has the finest in-house repair shop in south Florida that repairs instruments for all schools in Lee, Charlotte, Sarasota, Hendry, and Collier Counties, as well as for students and professionals from all over the world. We offer a monthly rental program for most school band and orchestra instruments and offer weekly pick-up and delivery to schools in Lee, Collier and Charlotte Counties. Cadence Music also offers private lessons on most instruments taught by qualified professionals, many of whom are full-time teachers as well as professional musicians. Whatever your musical needs, from student to professional, we hope you'll let us serve you!
Meet our staff!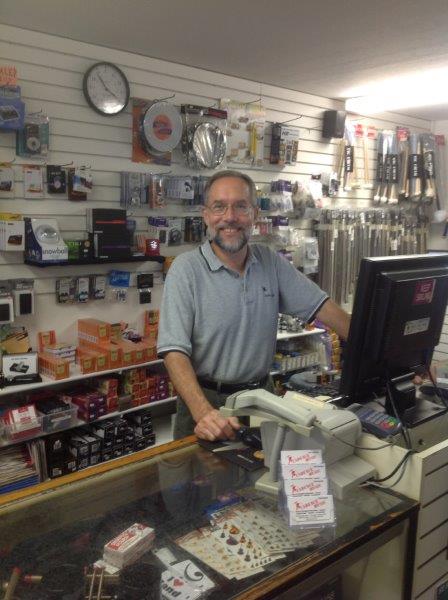 Tom Kracmer, owner
Tom is a graduate of Northern Illinois University. For nine years, he was the Principal Tubist of the Orquesta Sinfonica de Xalapa (Xalapa Symphony Orchestra) and Instructor of Tuba at the Universidad Veracruzana (University of Veracruz) in Xalapa, Veracruz, Mexico. Since his return to the United States in 1989, Tom has performed with the Southwest Florida Symphony and the Naples Philharmonic as well as numerous chamber ensembles. He is currently the Principal Tubist of the Southwest Florida Symphony & the Suncoast Brass, brass coach of the Southwest Florida Symphony Youth Orchestra, as well as owner of Cadence Music in Ft. Myers, Florida. In his spare time, he built and enjoys flying a Van's Aircraft RV-7A sport-aerobatic airplane and is a member of EAA.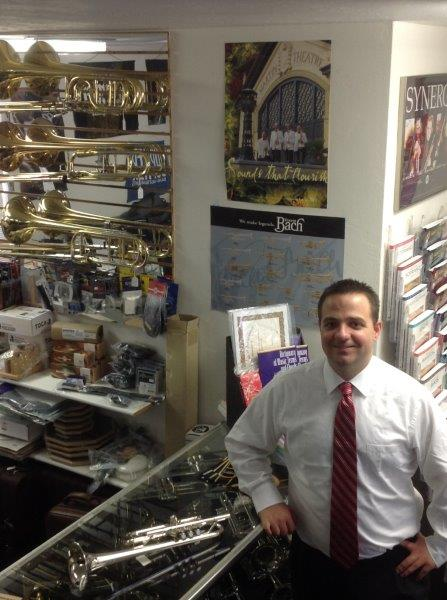 Chris Neron, customer service specialist/road representative
Chris was born and raised in Fort Myers. He has been playing trumpet since the age of 11 and was first employed by Cadence in 1998. He is a graduate of Cypress Lake Center for the Arts. Chris holds a Bachelor's Degree in Trumpet Performance from The Florida State University as well as a Master's Degree in Music from Western Michigan University. He has performed with the Charlotte Symphony and Southwest Florida Symphony as well as numerous other groups throughout the Southwest Florida area. In his free time Chris enjoys playing with his Boston Terriers, Lola and Bonnie, and fostering for Boston Terrier Rescue of Florida.
---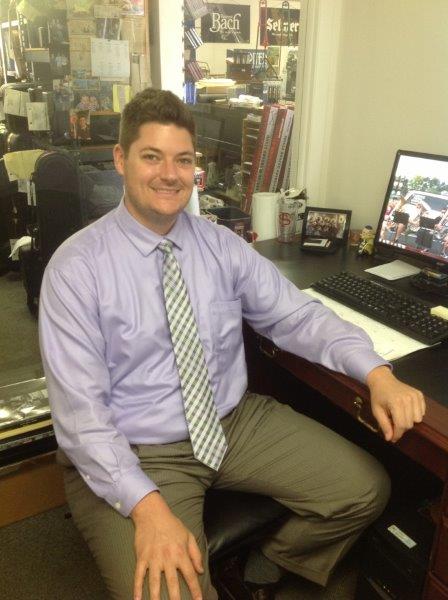 Todd Handley, manager/instrument repair technician
Todd is from the Southwest Florida area where he graduated from Lehigh Senior High School. He attended the Florida State University where he received a degree in Music Education. While attending FSU, he studied with Mr. Paul Ebbers, one of the foremost teachers of brass pedagogy in the country. Todd serves as the Tubist for the Charlotte Symphony. He also plays tuba with several chamber groups and symphony orchestras around Southwest Florida. Todd maintains an active teaching schedule. In his teaching, he integrates his own fun style into traditional learning methods.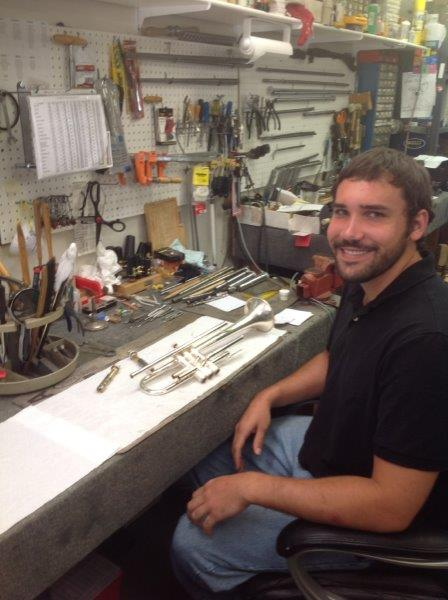 Alex Kracmer, instrument repair technician
Alex grew up in Southwest Florida where he attended Cypress Lake Center for the Arts. Alex has been working as an instrument repair technician specializing in brass and strings at Cadence Music since 2004. Alex studied cello at the Interlochen Center for the Arts Summer Music Camp. In his free time Alex enjoys riding his Honda RC51 motorcycle.
---
Luke Lohnes, instrument repair technician
Luke graduated from Port Charlotte High School in 2012 and attended Florida SouthWestern State College for Music Education. He is a low brass player who freelances in the SWFL area, and has been working in the instrument repair shop at Cadence Music since 2014. Luke plays soccer, guitar and piano, reads Jules Verne, and listens to vinyl in his free time.
Isabella Cintron, sales associate
Isabella has been involved in theatre since she was two weeks old, and is a Theatre major and a Dance minor at Cypress Lake Center for the Arts. She has worked at Cadence since 2015. You might see her performing at Broadway Palm Dinner Theatre or Florida Repertory Theatre. In her spare time, she enjoys spending time with her poodle mix, Bear, and searching for an English Bulldog to rescue
---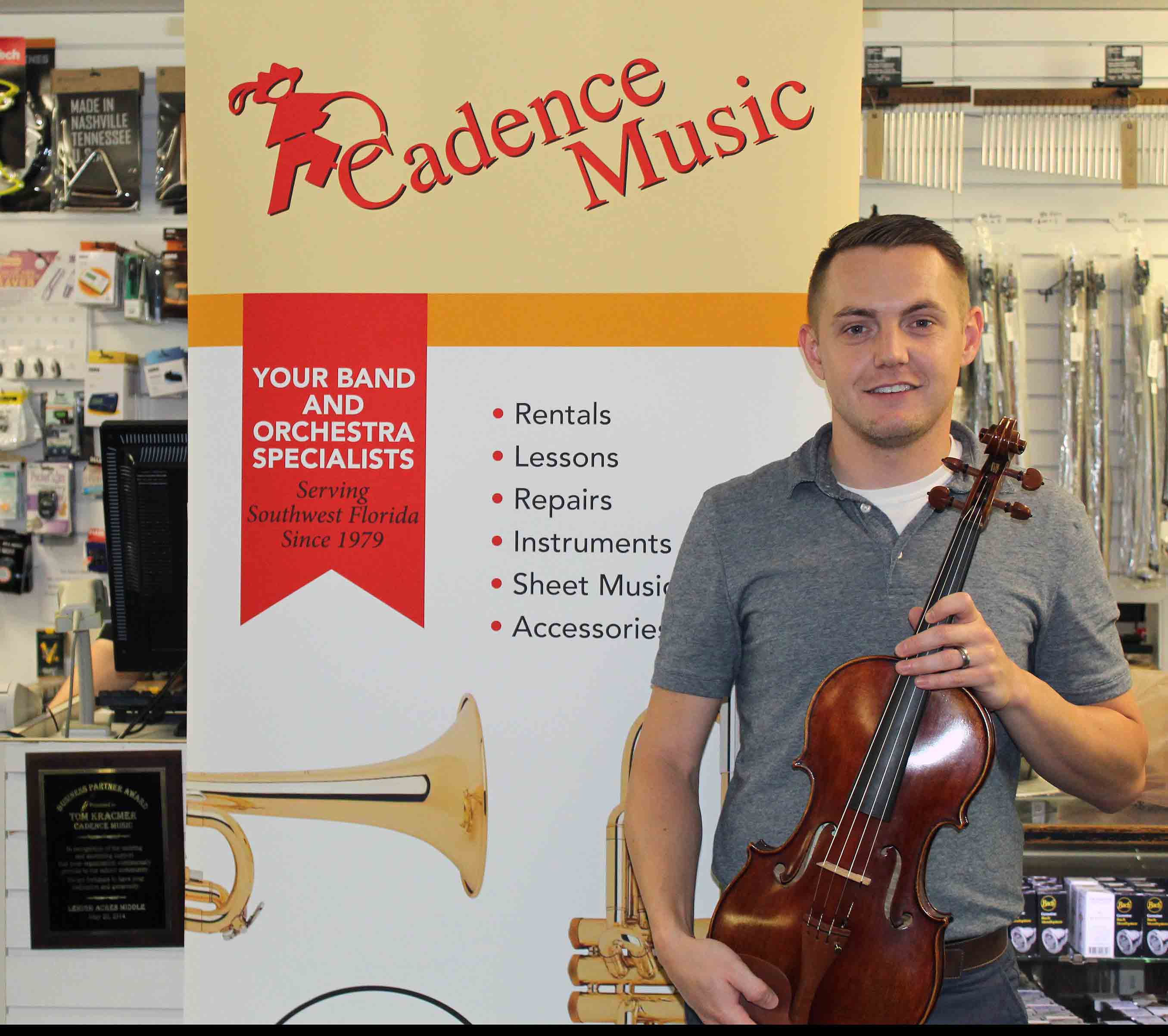 Bradley Blaufuss, customer service specialist
Bradley is from Captiva, Florida and grew up in the Fort Myers area. He is a graduate of Cypress Lake Center for the Arts and attended Florida Gulf Coast University, where he studied the viola. Bradley plays professionally in the Charlotte Symphony Orchestra and freelances in the area. Bradley joined Cadence in 2008 where he manages inventory, purchasing and receiving. In his free time he enjoys zooming around town in his 2014 Dodge Challenger.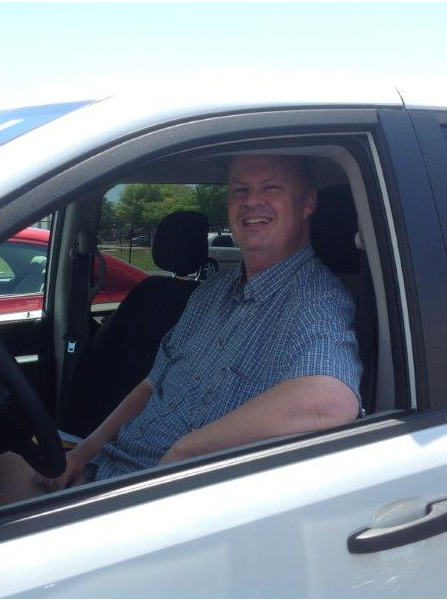 Chris Bonner, road representative
Chris was born in Chicago and later relocated to Southwest Florida where he attended Cape Coral High School. He holds a degree in Music Education from the University of South Florida and has a background in French horn. Chris works with the Florida Bandmasters Association as the Auxiliary Committee Chairman, serves on the Music Performance Assessment Committee, and works as an adjudicator for Solo and Ensemble and Marching Band MPAs. Actively sought by band directors to work with their bands as a guest clinician, Chris also serves as a judge for color guard competitions and coaches the horns at Barron Collier and Gulf Coast High Schools. In his "spare time," Chris writes over 15 marching band shows each year for schools throughout Florida.
---
Allison Leone, sales associate
Allison is from the Southwest Florida area. She is a graduate of the Gateway Charter High School and is currently a student at Florida Gulf Coast University pursuing her Bachelor's Degree in Communication. Allison has been studying percussion since the age of 9 and still actively performs in the area. As well as working in the front of the store as a sales associate, Allison also works very closely with the store's rental accounts. She will officially graduate from Florida Gulf Coast University on May 1st! Wings up!
Dana Williams, sales associate
Dana started playing the French horn at 10 years old in the Land of 10,000 Lakes, Minnesota. She received a Bachelor of Music degree in Education from Concordia College before getting her Master's in Horn Performance at the University of New Mexico. She taught band and orchestra in New Jersey before coming to Fort Myers in 2005. She performs with the Charlotte Symphony Orchestra, Suncoast Brass Quintet, and various other groups around FL. She joined the Cadence Music team in January 2016, where she works as a customer service specialist. In her free time, Dana enjoys learning languages, working with animal rescues, and hanging out with her Basset Hounds, Farley and Maddy
---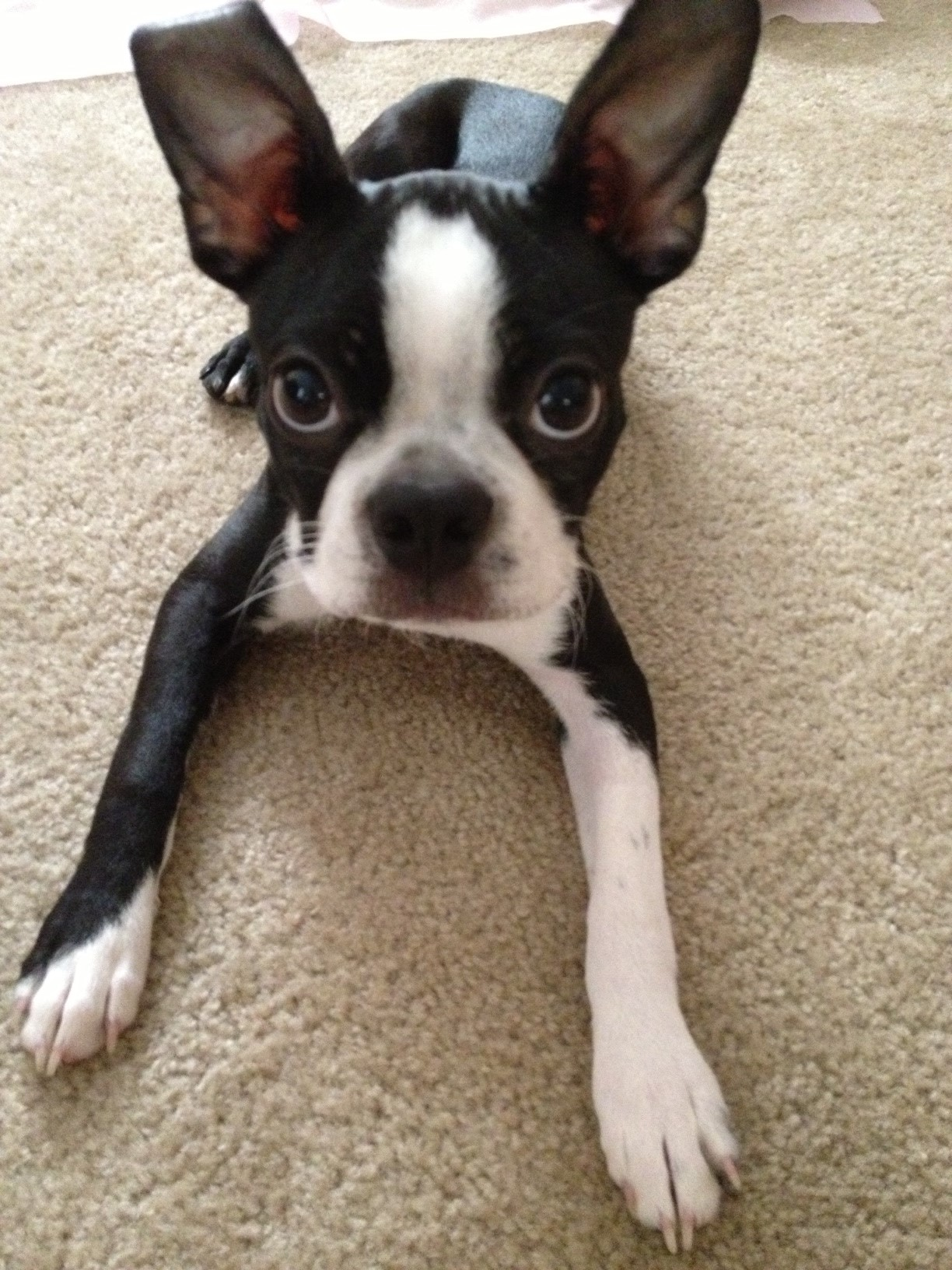 Lola, store mascot
Lola joined the Cadence crew in October of 2012. She enjoys roaming around the store, checking in on the employees to make sure their day is going well. In her free time she likes to beg for attention and take naps. Lola also enjoys listening in on trumpet lessons but is not hesitant to howl if she does not approve of the playing.
Jordan Rigdon, instrument repair technician
Jordan hails from Jacksonville, FL, and attended Florida State College of Jacksonville. He marched with Spirit of Atlanta Drum Corps and taught Sun Devils Drum Corps high brass. He has also taught high brass and marching at high schools including St. Augustine HS, Fleming Island HS, and was associate band director for Estero HS. Jordan has been working at Cadence since 2014, and recently moved from customer service to woodwind repair.
---
Maddie Fales, sales associate
Maddie is a senior at Cypress Lake Center for the Arts. She plays clarinet with the Southwest Florida Youth Symphony and at Cypress, where she is also a drum major. Maddie enjoys changing her hair color and style frequently and talking about band camp.
Matt Bennett, sales associate/instrument repair
Matt recently graduated from Cypress Lake Center for the Arts and is in his freshman year at Florida SouthWestern State College where he is focusing on music education. Matt plays tuba and bass trombone and in his spare time, loves watching DCI shows and playing with his new goldendoodle puppy, Oliver.
---
Bonnie, store co-mascot
Bonnie is a former foster and now permanent member of the Cadence crew since September 2016. She enjoys rearranging her bed in the office and looking for any crumbs. Bonnie is most famous for her "tappy feet" dance.
Cadence Music Staff